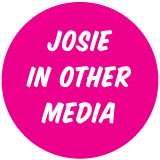 CozyJamble chats with GeeksOn!
Hello adoring internet fans (re: that one spambot who keeps posting about Cialis)! Things are moving at a rapid clip on the short film, but if you can't get enough CJ between CBR, TV.Com, Comediva and my own personal musings, then take a listen to this week's GeeksOn podcast where yours truly joins the crew to discuss the Hobbit and Le Mis (as well as reveal that I know very little about Captain Carrot).
Enjoy, and watch this space for more film and art news soon!