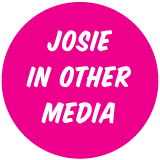 Hello Again, Internet
It's been a while.
I've been state-hoppin' and convention-coverin' and production office workin' and reportin' non-stop since July, but now the schedule is calming down and I'm back to share my incoherent ramblings with my devoted followers (i.e. bored people who have accidentally found the site and then suffer a heart attack so they can't raise their arm to navigate away from this page). I'm working on a lot of new projects between my ongoing cryptozoology painting series and a comic book, so to give you guys a taste take a look below!
Thanks internet, and good to be back.
Cover to the comic, written by myself, art and colors by Sam and Anita Tung.
The Conception Of The Fiji Mermaid
The Tasmanian Tiger and the Dodo and Passenger Pigeon Thieves On The Cross
The Immaculate Conception Of The Chupacabra (lots of this "immaculate" stuff, eh religion painters?)