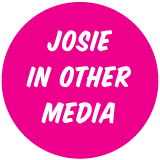 Josie on wrestling with This Is Awesome? Podcast
I got asked by the fantastic Muscle Temple crew to join them on This Is Awesome? podcast and talk about the 1991 Wrestlemania Ultimate Warrior Vs. Macho "King" Randy Savage match — a match the guys tell me is iconic, and I tell them I've never seen a single wrestling match before!
Take a listen at the site and enjoy me being confused by why Ultimate Warrior's gods talk to him "through his hands," demand that Miss Elizabeth deck the Sensation Sherri (preferably with a chair!), and morph into an instant Golden Age '90s fan with my first match.
And if you love wrestling AND comedy, take a gander at "Right Now Kapow's" second episode where we parody this era of wrestling with "The Bashmaster!"