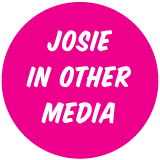 Josie Talks Literary Fuckbois!
Another update in LESS THAN A YEAR! Whoa! Josie's New Years Resolution Made Last Month of updating this thing is really happening!
In June I had the pleasure of going onto the podcast "Fuckbois of Literature" to talk about one of my favorite incredibly weird reads of English lit: Le Morte D'Arthur.
If you've never read it I highly recommend it — it's one of the strangest books ever penned, it is the literal underpinning of EVERY King Arthur legend in Western literary tradition, AND it was written by a career criminal in prison! Plus I get to say the phrase "He Prince of Egypt-ed the babies" a lot, so you know its a good time.
Take a listen and check out the podcast!