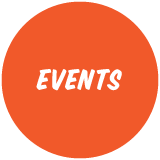 "Jurassic World: Camp Cretaceous" Is Out — And Coming To NYCC!
I'm happy to say my month has been filled with roars, extreme theme park hubris, and puddles of water ominously vibrating…because "Jurassic World: Camp Cretaceous" is out on Netflix!
It's been amazing to see so many people going gaga over our show, and to see it hold position as one of the Top 10 Most Watched Shows on Netflix for two weeks and counting! I will never get over the excitement of seeing kids wearing shirts or playing with toys based on something I helped make, nor the thrill of getting to write about my #1 passion as a kid: dinosaurs.
I am also thrilled to announce that I will be joining Colin Trevorrow, Zach Stentz, and my amazing writing staff for the "Jurassic World: Camp Cretaceous" panel at New York Comic Con! It's going to be a great time, filled with behind the scenes info AND the chance to watch a bunch of dino-nerds geek-out about which predatory theropod is best (obviously the Carnotaurus).
Keep your eyes peeled for the link to the panel, for more Cozyjamble press and other cool NYCC stuff. And remember: if you win a video game contest for an all-expenses-paid trip to a theme park on an island off the coast of Costa Rica…maybe think twice before saying yes.